In your bag #239 – Juan Bosco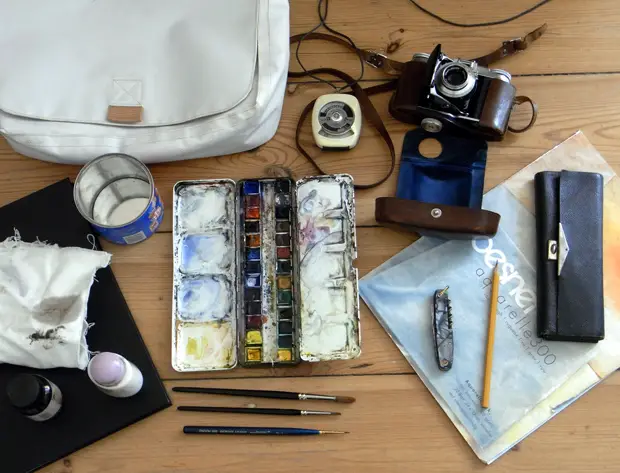 In your bag number 239, Juan Bosco
Todays bag is a real artists bag, in fact the camera does not even seen to be a central part of the bag. Juan keeps it simple. Check it out.

Hi, I´m Juan Bosco, from Spain but now I´m living in Berlin. I like very much your website and I recommend to my friends your "camera bags".
I like your blog so much that I'm trying to copy it, but with painters
I think is a very good idea.
I´m a photography lover, I take photos in my free time.
I´m an architect but my work is "paint watercolors"
I have a website: www.sanmartin-artscrafts.com here you can see my artwork (and my cameras too).
pd:In the bag I keep:
-Voigtländer Vito II.
-Light Exposure meter.
-Winsor & Newton, 26 watercolors case.
-3 Brushes.
-A 2B Hardtmuth Koh-I-Noor pencil.
-A brown Chinese ink.
-A vintage pocket knife.
-A leather case.
-Stillman & Birn "Gamma Series" Sketchbook.
-Boesner aquarelleblock 300
Juan bosco
Thanks for sharing with us Juan. I wouldn't normally feature a bag with such little information. But this bag is wonderful, I love the layout and the contents.
Check out the link and make sure you come and comment.
Keep them coming folks, we need more submissions, so get your bag on Japancamerahunter.com. Send me a hi resolution image of the bag (please make sure it is horizontal) and its contents, with some details about yourself and what you shoot. Oh and don't forget your contact details (twitter, flickr, tumbler et al). Send the bag shots here.
Cheers
Japancamerahunter